ABOUT UNFINISHED CAMP
To radically reimagine — and help build — a more ethical, equitable digital future, artists must have a seat at the table. And Unfinished Camp, the inaugural art initiative from Unfinished, provides a global platform for dozens of young contemporary artists to do just that. The brainchild of internationally acclaimed curator and artistic director of the Serpentine Galleries Hans Ulrich Obrist and New York-based author and cultural strategy advisor András Szántó, Unfinished Camp convenes influential arts institutions and emerging contemporary artists from across the globe to create original works that respond to the question, What is the future of art in a decentralized world?
These original works will debut to the public simultaneously at The Shed in New York at Unfinished Live and at Art Basel in Switzerland, September 2021. Click here to register for Unfinished Live.
Unfinished Camp has brought together a global network of nine founding partner institutions, marking a groundbreaking collaboration between leading arts organizations and the emerging tech-focused artists they support.
Camp's founding partners are House of Electronic Arts (H3K) in Basel; LUMA Arles in Southern France; Pivô in São Paulo; the Serpentine Galleries in London; The Shed in New York; UCCA Center for Contemporary Art in Beijing; The Zeitz Museum of Contemporary Art Africa (Zeitz MoCAA) in Cape Town; The Australian Center for the Moving Image (ACMI) in Melbourne; and The High Line in New York.
These institutions share a foundational belief that young artists — the next generation of visionaries and builders — must help imagine the future. To that end, Hans Ulrich Obrist and András Szántó invited these nine institutions to each select three emerging artists. Together, they make up the first class of Unfinished Camp artists. Each artist was commissioned to create a new video work, and the resulting works will debut in September 2021 in what will be the first of many opportunities for artists and institutions to collaborate.
ARTISTS
The 27 dynamic young artists were selected by Unfinished Camp's founding partners for their talent, creativity, and vision. They work across artistic disciplines, presenting diverse perspectives on life in an increasingly digital world, where the mechanisms — and the norms — of civil society are constantly put to the test. They span 5 continents.
ABOUT THE THEME
What is the future of art in a decentralized world?
We can't think about the future of any sector of business or culture without considering its relationship to technology, and that is true of art, as well. Some of the most important innovations in art are digital — and increasingly decentralized. What are the prospects for art in this emerging future?
Despite its democratic roots, in the last decades the web has been largely privatized—shaped and limited by a few leaders even if it's used by billions. The concentration of wealth and power in the current web environment has contributed to a breeding ground for polarization, authoritarianism, and misinformation. New decentralized technologies are offering an opportunity to change that—allowing more voices, ideas, and perspectives to be heard and engaged in addressing complex problems and discovering new possibilities. At Unfinished, we are deeply engaged in exploring these possibilities through Project Liberty, a visionary initiative with the potential to transform how the internet works and who benefits from the digital economy.
Through Unfinished Camp, we are engaging artists in the conversation. What would it look like if that future became mainly decentralized; if that wealth and power was shared? We turn to the imaginations of young artists to help us visualize the answer.
Amiko Li
(1993)
ACMI
New York, NY // Born in Shanghai, China
Amiko Li is a visual artist who works across photography, text, film, and performance. His works take an aleatoric approach to the nuances in the cultural system, and the ethics of language and representation, through reenactment, exchange and mistranslation.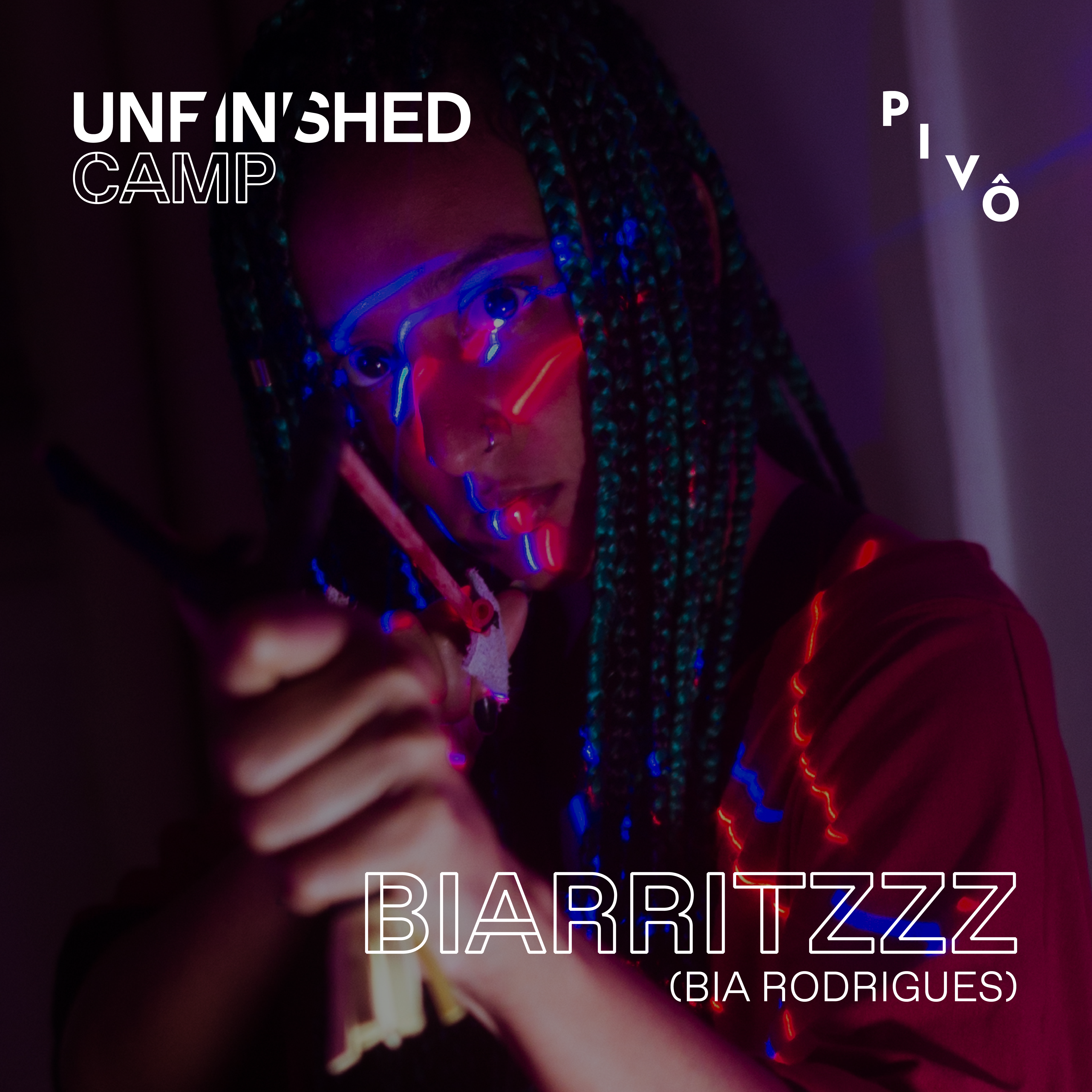 biarritzzz (Bia Rodrigues)
(1994)
Pivo
Recife, Brazil // Born in Fortaleza, Brazil
biarritzzz is an interdisciplinary artist who moves between the music and party scene and contemporary art, using the internet language to disseminate her ideas.
Christian Salablanca Diaz
(1990)
Pivo
Guararí, Costa Rica
Christian Salablanca Diaz's artistic research processes are influenced by myths and narratives that arise from family encounters with ancestral communities.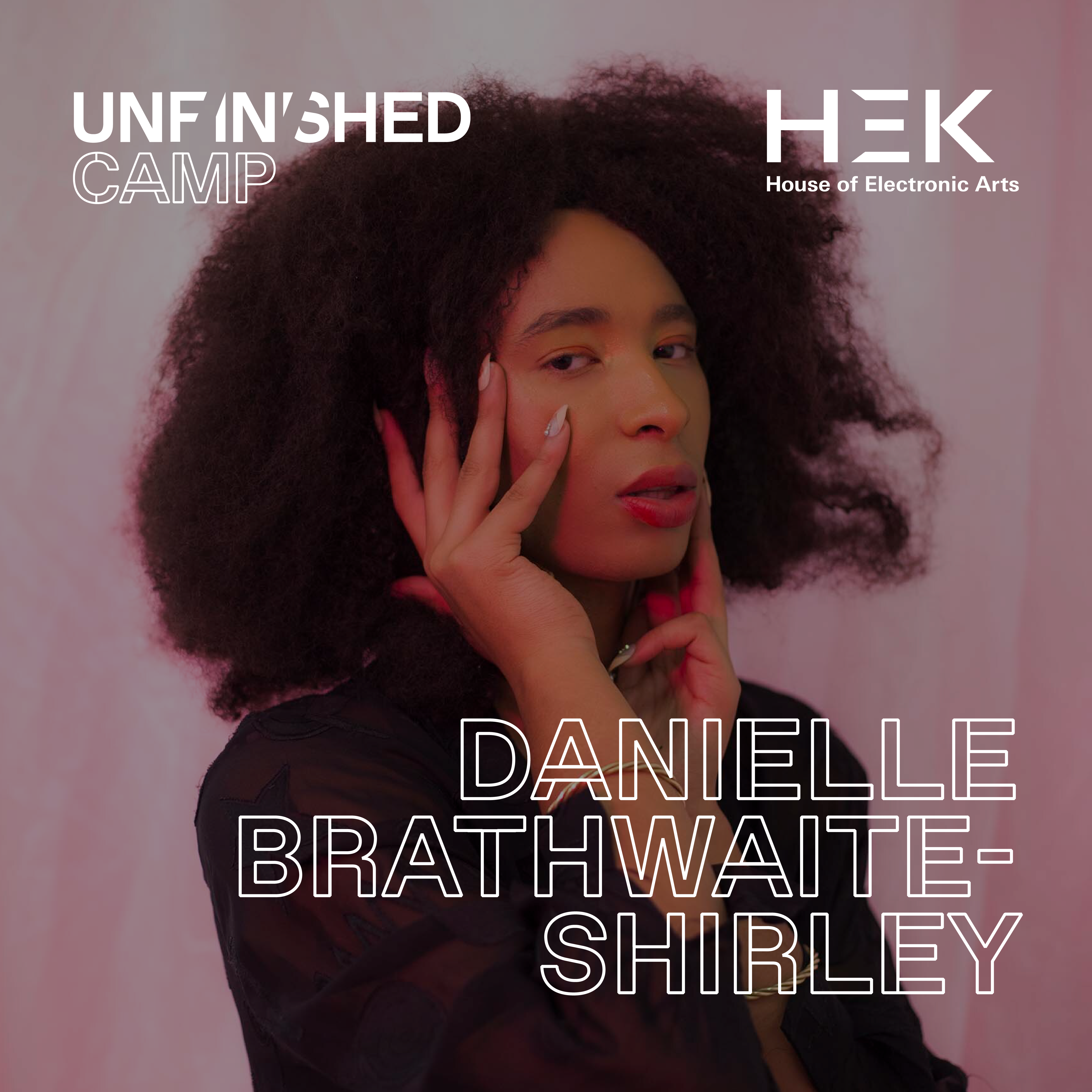 Danielle Brathwaite-Shirley
(1995)
HEK
London & Berlin
Danielle Brathwaite-Shirley is an artist and game developer who uses a variety of mediums to record and preserve Black Trans community experiences and stories.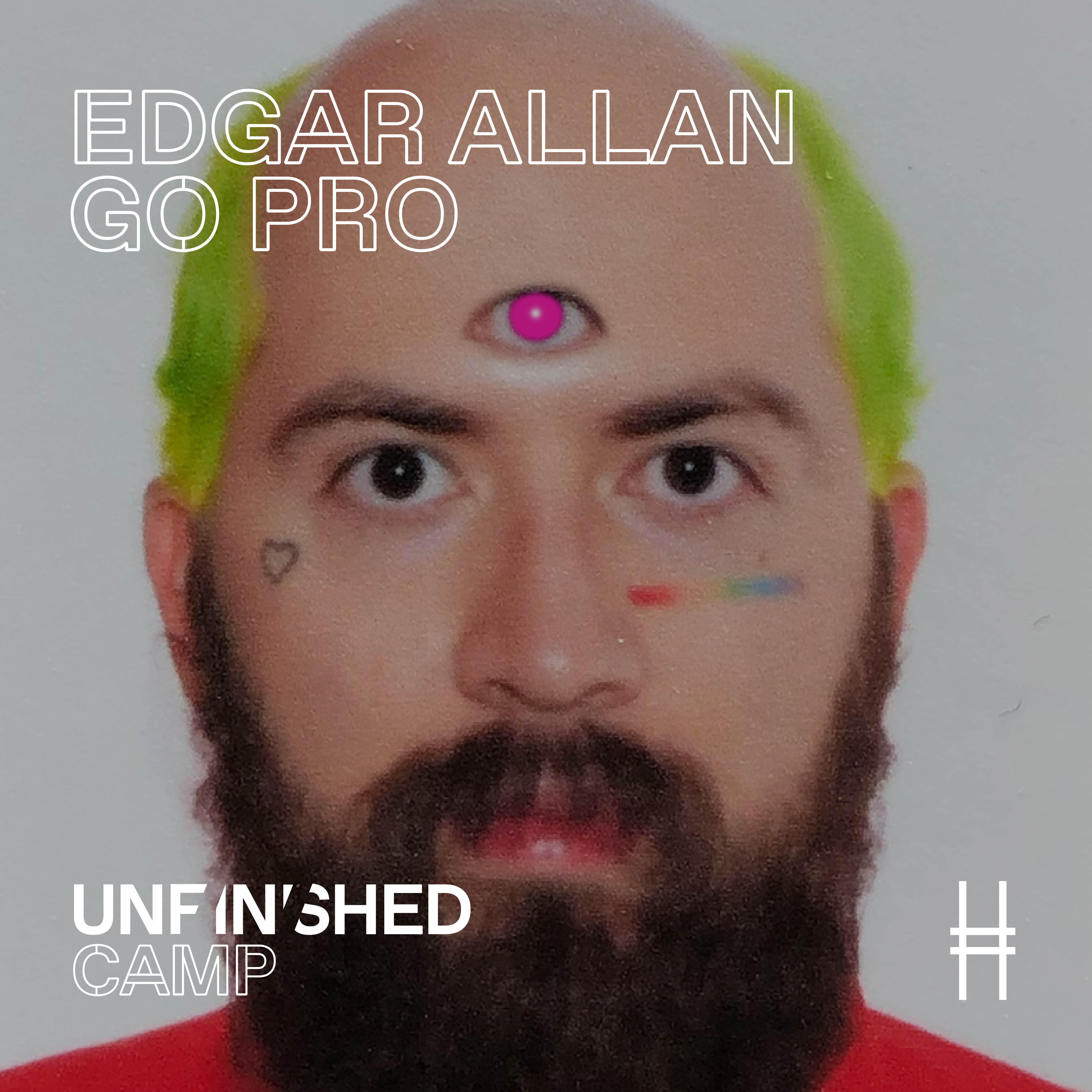 Edgar Allan Go Pro
(1993)
The Highline
Mexico City & New York City
Edgar Allan Rodriguez Castillo, also known as Edgar Alan GoPro, is a video artist from Mexico City.
Eric-Paul Reige
(1994)
The Shed
Gallup, New Mexico // Born in Na'nízhoozhí, New Mexico
Eric-Paul Riege immerses his audiences in the communal spirit of his Diné (or Navajo) heritage through elaborately woven large-scale sculptures, wearable art, and durational performances
Gabriella Torres-Ferrer
(1987)
The Highline
Berlin, Germany // Born in Arecibo, Puerto Rico
Gabriella Torres-Ferrer is an artist whose work considers futurability, new digital epistemologies and subverting hegemonic narratives; power dynamics and means of exchange and production in a globalized networked society.
Georgica Pettus
(1997)
The Highline
New York City
Georgica Pettus makes time-based media. She is interested in the sacred and the ceremonial as a means by which she can preserve the temporal.
Haley Anderson
The Shed
Houston, Texas
Haley Elizabeth Anderson is a filmmaker, writer, and visual artist from Houston, Texas. She currently attends New York University's Graduate Film Program as a Dean's Fellow.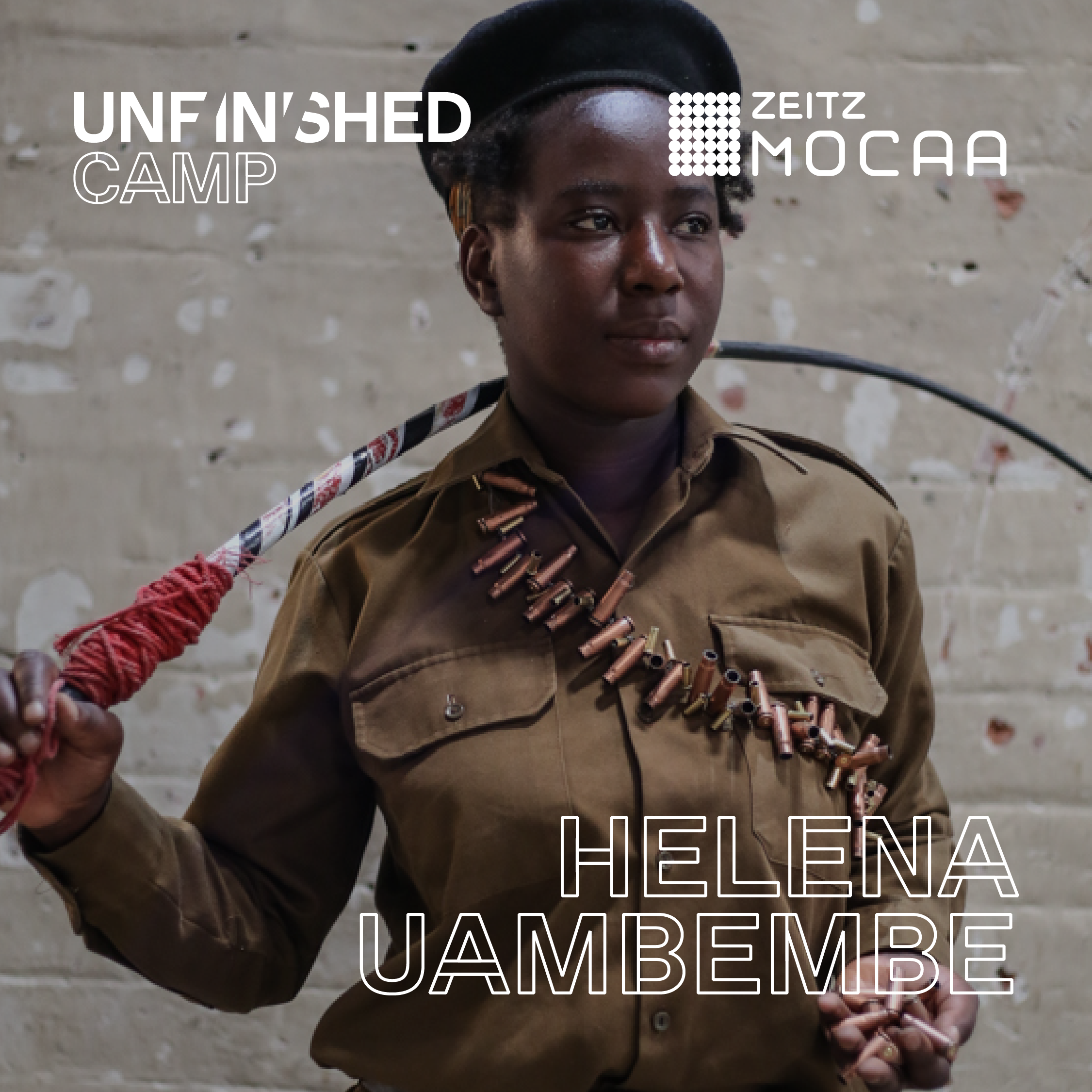 Helena Uambembe
(1994)
Zeitz MOCAA
Johannesburg & Pretoria // Born in Pomfret, South Africa
The 32 Battalion, Pomfret, and the artist's Angolan heritage are dominant themes in Uambembe's work, in which she explores narratives surrounding history and place, interweaving connected symbols and archival material.
Jasphy Zheng
(1992)
UCAA
Shanghai & New York // Born in Xiamen, China
Jasphy Zheng is an interdisciplinary artist whose practice explores topics including the inevitable failure of communication and the imagined collectiveness shared among individuals.
Jazz Money
ACMI
sovereign lands of the Dharug and Gundungurra nations, Australia
Jazz Money is an award-winning poet of Wiradjuri heritage. Her practice centers around the written word while producing works that encompass installation, digital, film and print.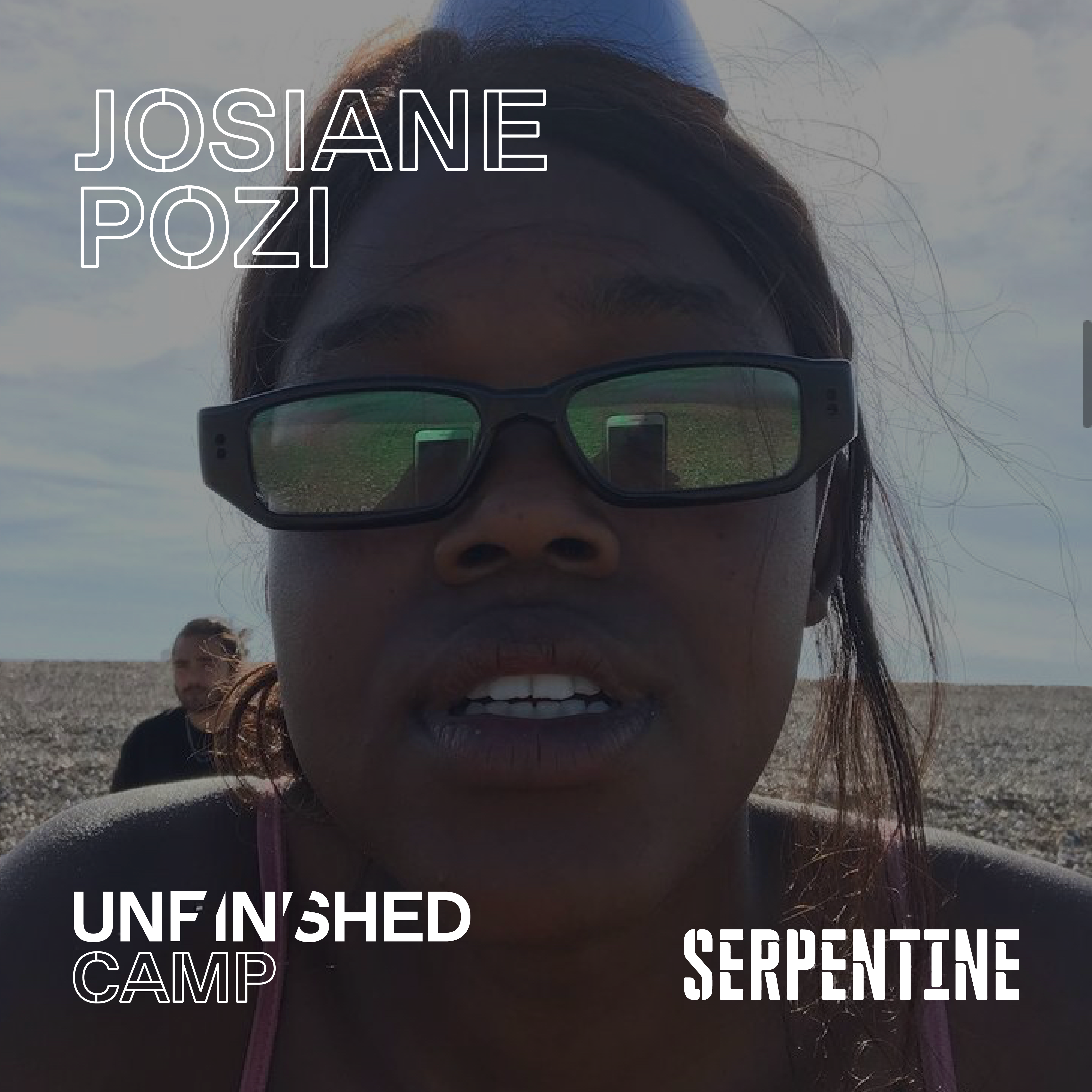 Josiane Pozi
(1998)
Serpentine
London, United Kingdom
Josiane M.H. Pozi is an artist and filmmaker. She recently had her second solo show at Carlos/Ishikawa gallery London, UK (2021). Her first solo show, Pingey, was curated by Robert Snowden at Gandt Gallery New York in 2020.
Jota Mombaça
(1991)
Serpentine
Fortaleza, Brazil // Lisbon, Portugal // Berlin, Germany
Jota Mombaça is an interdisciplinary artist whose work derives from poetry, critical theory, and performance. In their highly political practice, sonic and visual words play an important role, relating to anti-colonial critique and gender disobedience.
Kalanjay Dhir
(1995)
ACMI
unceded Dharug land, Australia
Working with sculpture, video and internet objects, Kalanjay Dhir is interested in near-futurism and spirituality through mythological and speculative technologies.
Kiyan Williams
(1991)
The Shed
New York, NY // Born in Newark, New Jersey
Kiyan Williams is a visual artist and writer who works fluidly across performance, sculpture, video, and two-dimensional mediums. Rooted in a process-driven practice, they are attracted to quotidian, unconventional materials and methods that evoke the historical, political, and ecological forces that shape individual and collective bodies.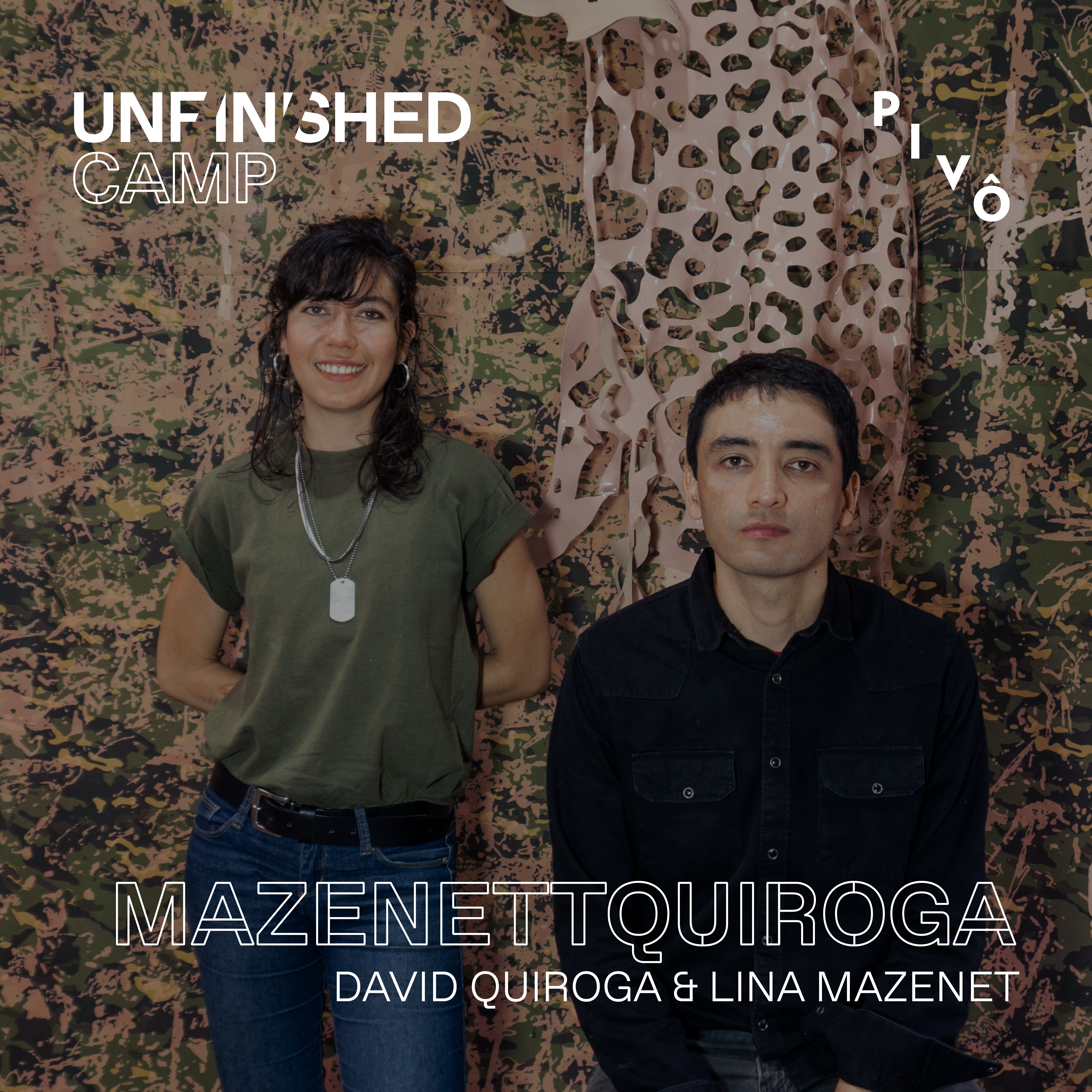 Mazenett Quiroga - David Quiroga & Lina Mazenet
(1985)
Pivo
Bogota, Colombia
Lina Mazenett & Davi Quiroga have been working in Bogotá as a two-person collective for the past nine years. In their projects, they explore the interrelationship between organisms and the misnamed "resources" of our environment and how these relationships are appropriated and distributed by means of culture.
Moorina Bonini
(1996)
ACMI
Wurundjeri, Australia
Moorina Bonini is a descendant of the Yorta Yorta Dhulunyagen family clan of Ulupna and the Yorta Yorta and Wurundjeri-Woiwurrung Briggs/McCrae family. Her works are informed by her experiences as an Aboriginal and Italian woman
Naomi Lulendo
(1994)
Zeitz MOCAA
Dakar, Senegal & Paris, France // Born in Paris, France
Naomi Lulendo's works are materializations of an interest in the misappropriation of words, meanings, objects, and identity. Her work encompasses painting, sculpture, photography, installation, and performance.
Paul Kolling
(1993)
Serpentine
Berlin, Germany // Born in Kandel, Germany
Paul Kolling makes works about infrastructural and economic processes and their integration into environmental and social structures.
Salomé Chatriot
(1995)
HEK
Paris, France
Salomé Chatriot merges elements of technology with organic parts to create physical installations and virtual environments. In her work, physical processes like breathing and heart beating activate mechanical processes, resulting in a symbiosis between human bodies and technological devices.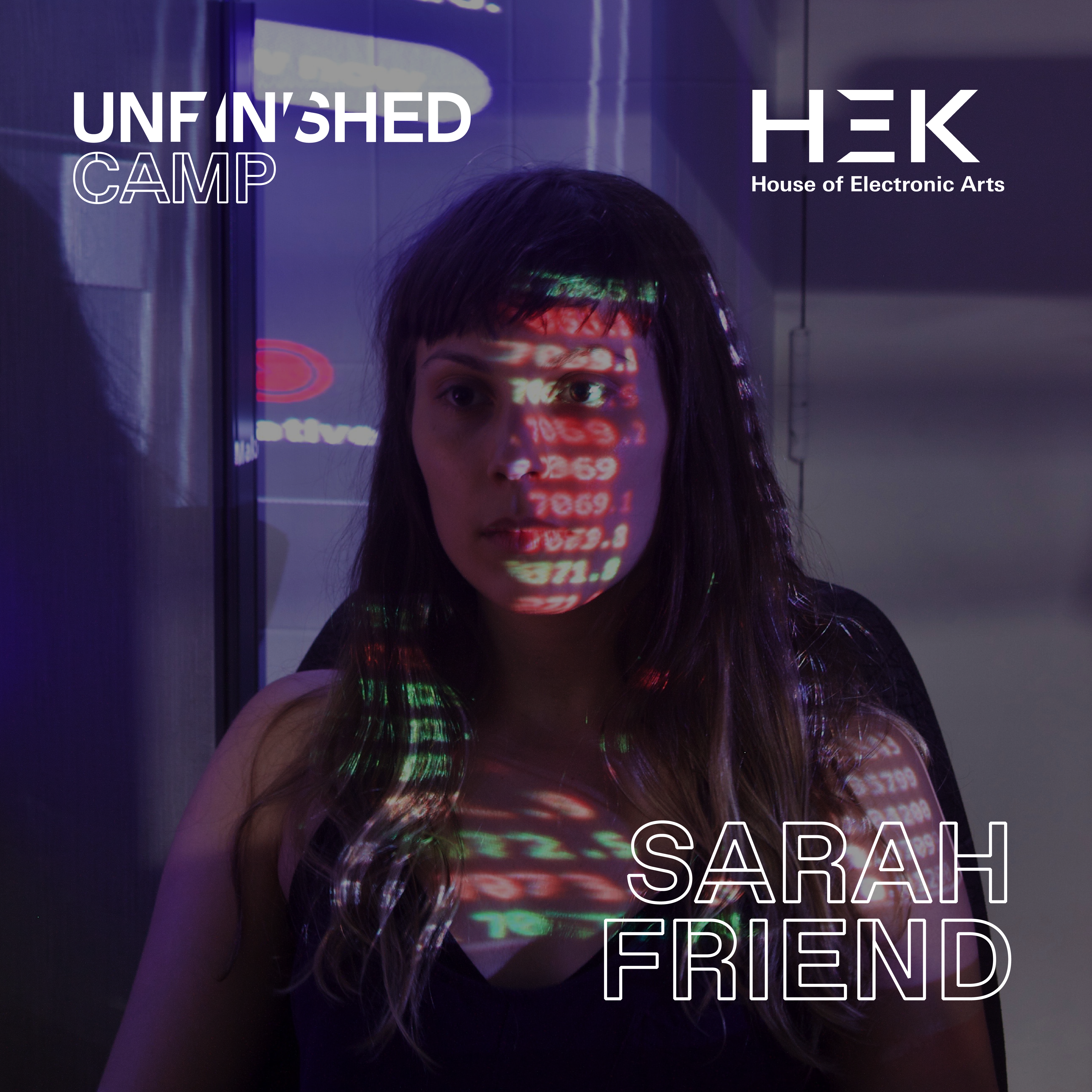 Sarah Friend
(1988)
HEK
Berlin, Germany // Born in Canada
Sarah Friend is an artist and software engineer who uses p2p web and blockchain technologies to address recent social and technological topics.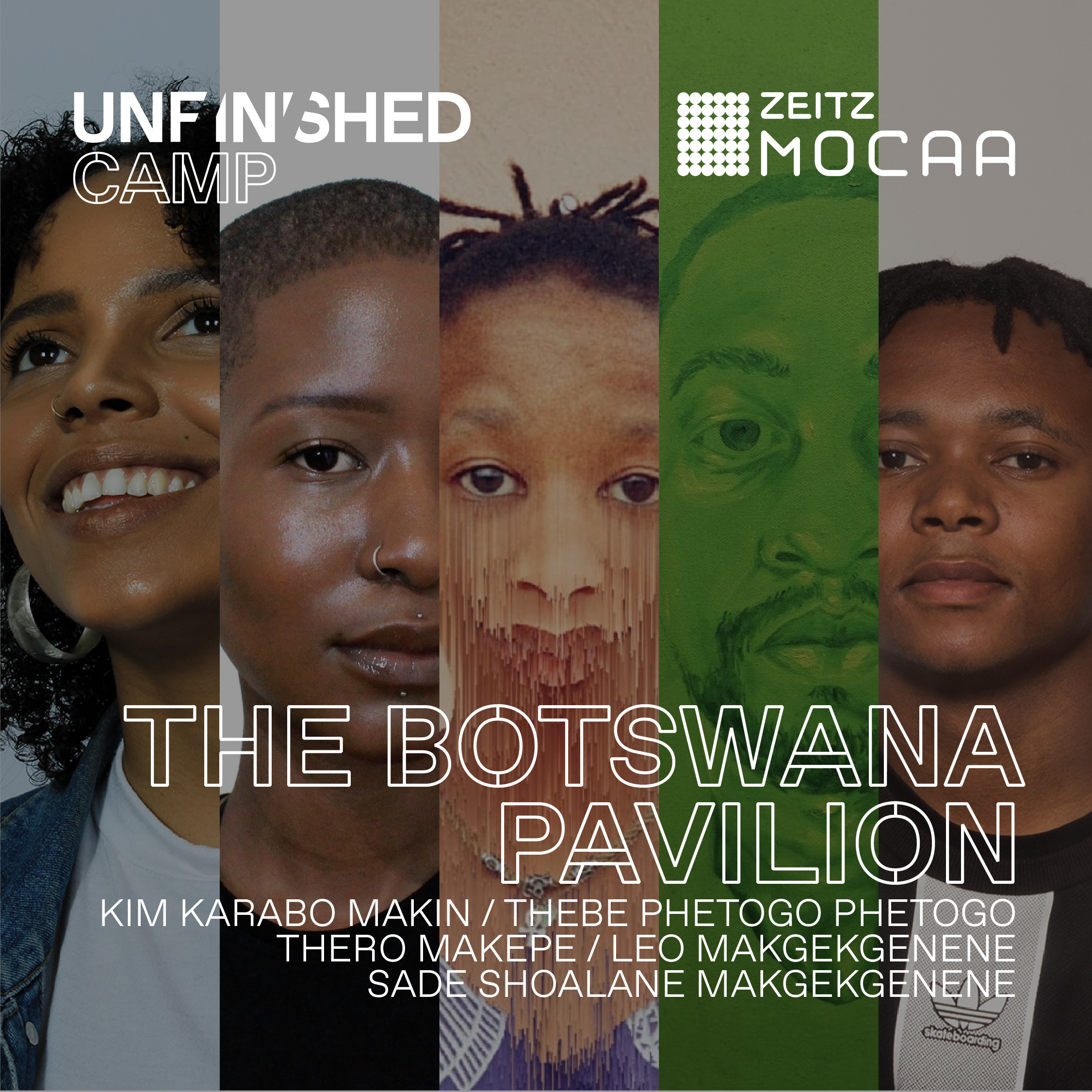 The Botswana Pavilion
(2019)
Zeitz MOCAA
Botswana, Africa
his lack of Tswana representation in art locally and internationally has stirred within the collective a need to support and validate young creatives from Botswana, in hopes to give rise to a new national creative identity.
Wang Yuyu
(1991)
UCAA
Shanghai, China // Born in Shanxi, China
Wang Yuyu's practice revolves around the liminality of movement for the body and objects. She believes that the authenticity of everyday life can be expounded through somatic experiences.
Drag
House of Electronic Arts
"In our program at HEK, current social issues and the impact of media technologies on society are very important to us. That is why it is a great pleasure for us to be a partner of Unfinished Camp. The topic of decentralization is one of the important issues of our time, especially regarding our digital infrastructures. We have invited three artists who approach the topic from different angles: by raising awareness of hidden structures and power mechanisms of our digital networks; by thinking about access to resources and the shaping of the world from the perspective of discriminated or marginalized groups, or by poetically reflecting our physical interconnectedness as a symbiosis between human bodies and technological devices. I believe that art can teach us to consciously shape our future, the cooperation between man and machine, as a new connecting fabric, and to focus on social togetherness instead of relying on exploitative systems and to help create infrastructures that make this possible."
- Sabine Himmelsbach, Director HEK (House of Electronic Arts), Basel
Led by: Sabine Himmelsbach, Director
Curatorial Lead: Boris Magrini, Curator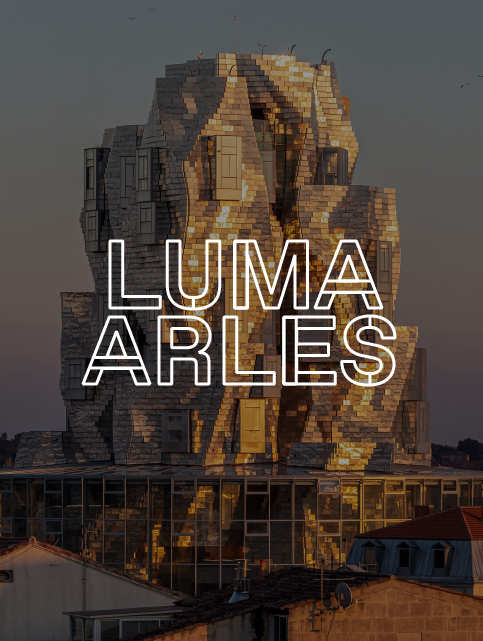 LUMA
We are inevitably at the threshold of encountering the massive transformation of what we believed was key to our existence : the one-way movement towards a goal, the one direction towards a system, or a belief. We are becoming aware of a polycentric world, of multiple parallel realities and the excitement of diverse voices and perspectives. The unthinkable is made manifest, the unknown is being thought of. Our perspectives are changing, our extra-central perception allows the production of new thought forms while empowering the possible, the potential to go beyond. It is the artists that show us what comes after, on the other side of circumferences.
Led by: Maja Hoffmann, Founder and President
Curatorial Lead: Vassilis Oikonomopoulos, Senior Curator
Pivô
"We have invited a group of artists working across Latin America whose work aims to highlight and dismantle the lasting sociopolitical and psychological effects of the modern colonial project. We are now facing a genuine crisis of our modes of existence. By looking closely into ancestral Indigenous traditions and technologies and engaging in more collaborative and place-based approaches to art, the invited artists meet in their attempt to understand how divergent forms of knowledge and practices make worlds. In their work, the future is perceived less as a progression of developing events and more as a cosmos composed of intertwining times and narratives." 
Led by: Fernanda Brenner, Artistic Director and Founder and Paula Signorelli, Executive Director
Curatorial Lead: Fernanda Brenner
Serpentine Galleries
"Jota Mombaça is an interdisciplinary artist whose work derives from poetry, critical theory, and performance. Through their performances Mombaça intends to rehearse the end of the world and seeks to write new narratives of what can emerge from the ashes. Mombaça's work reinforces the power of collectivity and the capacity of love and healing through gathering.
Josiane Pozi is one of the most inspiring and exciting artists working in London. Working across video and installation, her videos are personal, home movies and vignettes that unfold in real time, where the boundaries of video and live performance are blurred, and it feels as if one is watching a continuous stream of performativity that lurks on social media. Pozi lays bare the myriad emotions that define contemporary life."
 -Claude Adjil, Curator at Large
Led by: Bettina Korek, CEO and Hans Ulrich Obrist, Artistic Director
Curatorial Lead: Claude Adjil,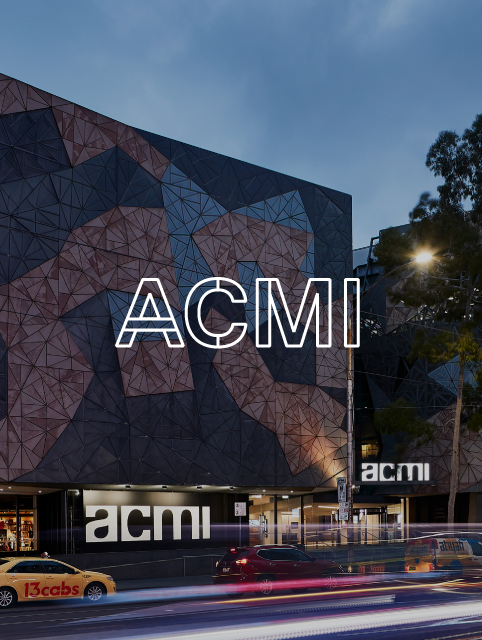 The Australian Centre for the Moving Image
MOORINA BONINI
"Indigenous technologies and knowledge systems are at the core of Moorina Bonini's video
Gowitdja (After)
. Showing that the route to our future is encoded in the past,
Bonini asserts that art and cultural expression can only evolve when data holders have power and agency to control and care for their own stories."
JAZZ MONEY
"Jazz Money's video
We have stories for all the dark spaces in between
illustrates how data held within the cosmos of Indigenous knowledges form a pathway to a decentralized future. Suggesting that these solutions are encrypted in the land, Money asks, what if we decentred colonial violence and recentred Indigenous sovereignty?"
KALANJAY DHIR
"Kalanjay Dhir's video
Stream
contrasts natural, built, and virtual realities and questions our future within corrupt centralized operational systems. Throughout
Stream
, the avatar Bagong questions his purpose as an individual in a world in a constant state of expansion, and he and his friends ask, if we cannot trust those in power, could trust become a relic?"
Led by: Katrina Sedgwick, Director and CEO
Curatorial Lead: Kate Ten Buuren, First Nations Curator
The High Line
"The High Line commissioned three artists Gabriella Torres-Ferrer, Georgica Pettus, and Edgar Alan Rodriguez Castillo to each develop their different perspectives on decentralization today and probe ways forward to achieve it. Torres-Ferrer examines the decentralized and unregulated ecologies of value creation surrounding data in the digital space; Pettus questions if intimacy at a personal level can be decentralized; and Rodriguez Castillo explores the plurality of Truth in his immediate surroundings."
Led by: Cecilia Alemani,
Donald R. Mullen, Jr. Director & Chief Curator
Curatorial Lead: Melanie Kress, Associate Curator and Constanza Valenzuela,
Curatorial & Exhibitions Assistant
The Shed
"The Shed has a commitment to celebrating artists at all stages of their careers. Bringing in new voices and returning to Shed family artists has been integral to our program model. Building these relationships digitally and in person allows for us to innovate artwork presentation and gives artists room to stretch their practice."
Led by: Alex Poots, Artistic Director and CEO and Maryann Jordan, President and COO
Curatorial Lead: Emma Enderby, Chief Executive Producer and Adeze Wilford, Assistant Curator
UCCA Center for Contemporary Art
Led by: Philip Tinari, Director of UCCA Center for Contemporary Art and CEO of UCCA Group
Curatorial Lead:
Alan Yulun Wu, Sponsorship Specialist
Zeitz Museum of Contemporary Art Africa
"Working with the global partners and extraordinary group of artists that constitutes Unfinished Camp underscores Zeitz MOCAA's core values of collaboration and active participation in change making.  Supporting emerging artists and their contributions to the questions of our time is an essential part of the work we do. Naomi Lulendo, The Botswana Pavilion and Helena Uambembe's poignant responses draws from within to connect to the relations and conditions that surround them, in ways that also challenge and question the status quo, and propose new ways of seeing and being." 
Led by: Koyo Kouoh,
Executive Director and Chief Curator 
Curatorial Lead: Storm Janse van Rensburg, Senior Curator and Head of Curatorial Affairs 
camp-partner
artists
Jazz Money
Kalanjay Dhir
Moorina Bonini
camp-partner
artists
Sarah Friend
Salomé Chatriot
Danielle Brathwaite-Shirley
camp-partner
artists
Edgar Allan Go Pro
Gabriella Torres-Ferrer
Georgica Pettus
Eric-Paul Reige
Haley Anderson
Kiyan Williams
camp-partner
artists
biarritzzz (Bia Rodrigues)
Christian Salablanca Diaz
Mazenett Quiroga – David Quiroga & Lina Mazenet
camp-partner
artists
Josiane Pozi
Jota Mombaça
Paul Kolling
camp-partner
artists
Amiko Li
Jasphy Zheng
Wang Yuyu
camp-partner
artists
Helena Uambembe
Naomi Lulendo
The Botswana Pavilion